SJN Volleyball Senior Night
VOLLEYBALL SENIOR NIGHT
The Celtics Volleyball team began their practices in early June as a way to prepare for their upcoming season. From weekdays to weekends, they put in the time and effort to reach their desired goals for the season. Fast forward to November, they made history advancing past districts after a long 22 years.
Many of the players have returned from previous years, but there are three seniors who have played on the team for 4 solid years. Shanie Sedio, Alysson Jaen and Elise Flannery have accompanied the team since freshman year and have finally achieved their goals of going to regionals, but they aren't done yet. 
To celebrate their hard work and dedication to the program, the team held a Senior Night ceremony for them. I was able to interview Sedio, Jaen, and Flannery, as well as Head Coach, Tito Martinez.
How have you felt about the outcome of the season so far?
"This season for me has been my favorite out of the past four years. Tito really brought passion to our team and our players, and you are really able to feel the difference. And I absolutely love every single one of our teammates. This year has really shown me how much a team can actually feel like a family, and not just an obligation. I don't think I could be any more grateful for how this season has gone. Win or lose, our team is amazing!"
— Shanie Sedio, Setter
"This season was my favorite out of them all. Everyone was so sweet and we all got along well. I felt comfortable with everyone on the team and our connection got stronger every day. My favorite part of this season was kidnapping and pranking the freshman after our game against CSN. I hope everyone continues this tradition because it definitely made us closer as a team. I can't wait to watch the underclassmen grow through these next few years and continue to make history! And hopefully win us our District Championship!! I love everyone so much and I'm gonna miss playing with these guys."
— Alysson Jaen, Pin Hitter
"I've felt really good about this season. This team has been amazing and like a family and they have done so much for me. Watching them and being able to "coach" has done so much for me. They are such an amazing group of girls and I am so proud of them especially for getting to playoffs. Excited to see what's to come."
— Elise Flannery, Team Manager
Did the outcome of senior night fulfill your expectations? How did the night overall impact you?
"Senior night was a lot of fun for me. I loved the decorations and the wall that had posters and balloons on it for us was so cute it almost made me cry. I love that we won against Naples, and even though it wasn't the easiest win of the season, it kinda represents our whole season. How even when we have a few mistakes, we are all one team working for the same thing and in the end, nobody is gonna stop us."
— Shanie Sedio, Setter
"Senior Night was everything I could've imagined, the effort everyone put in to the decorations was amazing and I couldn't have been more thankful. Winning our Senior Night against my old high school team ( Naples High) was one of the most surreal things ever. Of course it wasn't an easy win, but we all played amazing and I couldn't of been more proud of everyone for pushing themselves for us seniors."
— Alysson Jaen, Pin Hitter
"Senior night was super special and watching our team play at our best to push through and win for the seniors was so fun to watch. The decorations were so cool and I thank everyone who put time and effort into it."
— Elise Flannery, Team Manager
As head coach, what goals have you set and accomplished over the course of the season? How have these goals impacted the passion of the team?
"As a new coach to the SJN Volleyball team, I have had the honor to work with a group of young women who have shown in just a couple months a drive to prove to themselves and those around them that they can and will succeed in anything they set their mind to, proving that no goal is unachievable and this year the SJN Volleyball Varsity team has demonstrated just that. After 22 years, the team has finally made it to district finals, and on their way to regionals this upcoming week. It has been a lot of hard work and long days, but as a team we have proven to break records! I am immensely impressed, and grateful to have a group of young women who have worked so hard to achieve these goals in a short time. I wish the seniors a lifetime of success and if they continue to work as hard as I've seen them work, I have no doubt they will succeed in everything they do!"
— Tito Martinez (Head Coach)
How do you believe the seniors impacted the team as a whole?
"In our team we have two seniors Alysson and Shanie. Shanie has shown commitment to the team and to the game, while Alysson has had great leadership inside the court. Both of these girls have exemplary qualities that are an example to the rest of the team who are younger players."
— Tito Martinez, Head Coach
The Celtics Volleyball team wouldn't be the same without the seniors and we are forever thankful for their commitment to bettering the program!
Leave a Comment
Donate to The Celtic Times
Your donation will support the student journalists of St. John Neumann Catholic High School. Your contribution will allow us to purchase equipment and cover our annual website hosting costs.
About the Contributor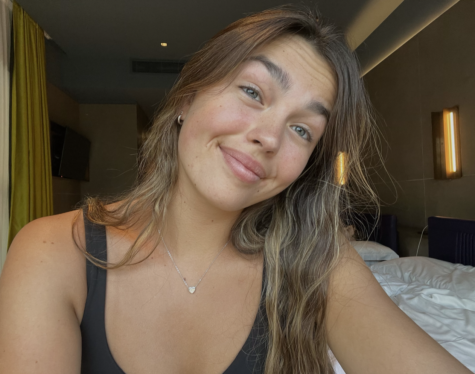 Taylor Chatigny, Reporter
Hi, my name is Taylor and I'm a sophomore here at St. John Neumann. I play varsity volleyball and basketball. I enjoy spending most of my time working...