Teacher Spotlight: Mrs. Brewer Reinvents Neumann Theatre Program
The establishment of the Saint John Neumann Theatre Program dates back to just seven years ago when students came together in 2017 with the idea to start a drama club. In the club's first year running, this small group of students performed 'Godspell' which ended up being successful in bringing greater interest to the club for other students. A short while after the first performance, the director of the club unexpectedly left. This occurrence created a large amount of conflict between the students and the club's fate. That was soon ended when Mrs. Brewer stepped up to take the leadership position, committing to expand and reinvent the club for all students. 
"As the theatre director, my goal is twofold. First, I want to provide a professional program for those students interested in performing arts, both now and as a career. In doing so, I would like St. John Neumann to be known for excellence in this field. My ultimate dream is to build a performing arts center on campus that would be used for theatre, vocal and instrumental performances. 
Secondly, I want to introduce theatre and all of its elements to students who have never been involved in the arts. Performance of any kind creates self-esteem, teaches new skills, and develops the confidence to branch out and try things you might not have thought possible. This confidence will continue to grow in those students who are willing to take a chance and explore new directions." 
– Cindy Brewer 
Under Mrs. Brewer's leadership, the club was soon up and running, putting on a variety of shows on campus. In 2019, 'Into the Woods' was performed for the first time with a cast of 50 students! Since then, an abundance of shows has been performed such as 'West Side Story', 'Legally Blonde', 'The Mousetrap', etc. Fast forward to 2023, 'Shrek' was performed by an amazingly talented group of students. This show was not only entertaining to watch, but it demonstrated the great progress the club has made since its initiation. 
There are many components when it comes to putting on a show. Everything involves student-run sound and lighting, backstage managers, stagehands, student directors, student choreographers, set building, artistic design, costume design and creation, hair and make-up artists, playbill design, acting and vocal training. Those 
are just some of the numerous steps of the process. Mastering the details of these steps can take months if not years long to learn. The hours of practicing blocking, lines, and singing is complicated, but when it all comes together, it creates something beautiful. 
With the successes, there also come the failures. There is always a director that is responsible for managing the actors and the overall production. This designated person is looked upon to run the show smoothly by directing actors to their exact spots, in their exact clothing, with their microphones ready to go. Without the organization of a director, this could create confusion, missed lines, and frustration. 
Along with the students, Mrs. Brewer has also taken major responsibility for a portion of each show that is performed. 
"Before a practice can begin, I map out blocking for every character in every scene. I learn the personality of the characters so I can direct the actors in the best way of presenting those characters. I study the time period and location(s) of the play and create or purchase the costumes and props. I decide what the make-up and hair should be and search for all of the scrim pictures. I find out if any mics are broken and need to be repaired, or if new ones need to be ordered. I design the sets and create multiple uses for each piece. I map out each lighting change during the show. I learn the music in order to coach the singers correctly. And finally, I create practice schedules." 
– Cindy Brewer 
With the help of her students, Mrs. Brewer has done an amazing job at changing the theatre experience for all participants. She has successfully worked individually with Neumann students to smoothly run productions over the past few years. Even though the club has accomplished plenty, there is still more work to be done. In the future, she hopes to continue to improve the flow of each show and each step of the production process. Be on the lookout for more shows to come! 
Leave a Comment
Donate to The Celtic Times
Your donation will support the student journalists of St. John Neumann Catholic High School. Your contribution will allow us to purchase equipment and cover our annual website hosting costs.
About the Contributor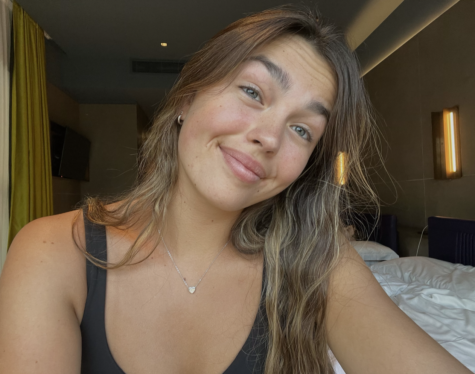 Taylor Chatigny, Reporter
Hi, my name is Taylor and I'm a sophomore here at St. John Neumann. I play varsity volleyball and basketball. I enjoy spending most of my time working...