Worldly Wisdom: Tips and Tricks to Prepare for College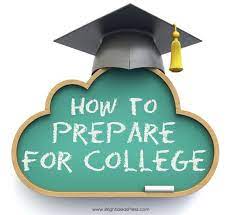 Most children start their education around the age of three with Preschool. Then for around the next 20 or more years of their lives, they will be enrolled at a school. Elementary, then middle school, followed by high school, college, and finally, if you want, grad school. Each moment of your adolescent life is building toward your future. For most jobs, having a college degree on your application, helps you to get hired, but first, you have to get accepted into college. According to the University of Poland and U.S. News, here are the best ways to prepare for college:
Start Planning Now- High school is the time to start preparing for college. Although as a 9th and 10th grader college may seem far away, it will be here before you know it. Your GPA starts your freshman year, and it's never too early to take a PACT or a PSAT. Take the first step, it will pay off.
Take the Right High School Classes- Plan to challenge yourself. Take hard classes, they will benefit you and will look good on your transcript. Through AP courses, you will be better prepared for the rigor of college classes. AP and Honors also add "weight" to your GPA, increasing it. But, take into account that these classes are difficult. Don't take a class if you're not prepared to do reasonably well. Know yourself!   
Get Involved in Extracurricular Activities- Explore your high school, and find out what you enjoy. While you can't do everything, try to join clubs or a sports team. Colleges like "well rounded," so do activities that allow you to excel.
Build Relationships with Mentors- Coaches, teachers, employers, and religious leaders are all potential mentors. Look for people that you want to be when you grow up. Get to know them and find out about their lives. They can open opportunities for you, and they can help guide you. Building relationships is a skill that you can use throughout your life.
Work on College Readiness Life Skills- Make a list of skills you'll need in college, and try to learn them. Can your parents teach you how to cook? Or teach you to check your oil, and change your tire? There are many life skills you'll need, or depend on. Work on practicing them, make a plan, and set a goal.
College Visits- Try to visit as many college campuses as possible early on in high school. Don't wait till your senior year. Tour the campus, and make a list of what you like, want, and need in a college campus. Also, research the degree you are interested in taking, and find out if they have a good program.
College Entrance Exams- Colleges consider college entrance exams to be one of the most important new student benchmarks. Check the requirements for the colleges you're interested in and start planning to achieve them. Decide which test you will take, ACT, or SAT, and start studying. Junior year is the best time to take exams. In preparation, check if your school has an SAT Prep class, and if you struggle with exams, think about taking the class. Make sure you have a goal to get them done before the summer after your Junior year.
If you find yourself unprepared for college, keep these tips and tricks in mind. Making sure you have goals and know what you need for college will greatly help you. Don't stress out too much, make sure to still have fun, and everything's on your timeline.
Leave a Comment
Donate to The Celtic Times
Your donation will support the student journalists of St. John Neumann Catholic High School. Your contribution will allow us to purchase equipment and cover our annual website hosting costs.